Folly Beach, South Carolina is one of America's last true beach towns. Just minutes from historic downtown Charleston, Folly Beach is a 12 square mile barrier island that is packed with things to do, see and eat. This is a funky, laid-back, come-as-you-are kind of beach. The pace is invitingly slow, the people are captivatingly unique and the shops and restaurants will receive you with good old fashioned southern charm and hospitality. It won't take long for you to feel right at home.
Surrounded by the Atlantic Ocean and the Folly River, visitors enjoy six miles of wide beaches, surfing, fishing, biking, kayaking, boating, eco-tours, and sea-wildlife including several endangered species.
FOLLY BEACH – BASIC FACTS
The City of Folly Beach had a population of 2,972 as of July 1, 2017. Folly Beach ranks in the lower quartile for Population Density
The primary coordinate point for Folly Beach is located at latitude 32.6693 and longitude -79.9606 in Charleston County
The formal boundaries for the City of Folly Beach (see map below) encompass a land area of 12.51 sq. miles and a water area of 6.36 sq. miles. The elevation is 10 feet.
FUN THINGS TO DO ON FOLLY
Boat Tour, surfing, kayaking,fishing,Eco Tours, Folly Beach Country Park, Paddleboarding,Dolphin & Whale Watching,Lighthouse Inlet Heritage Preserve, Windsurfing,Fishing Charters & Tours,Great Nightlife and R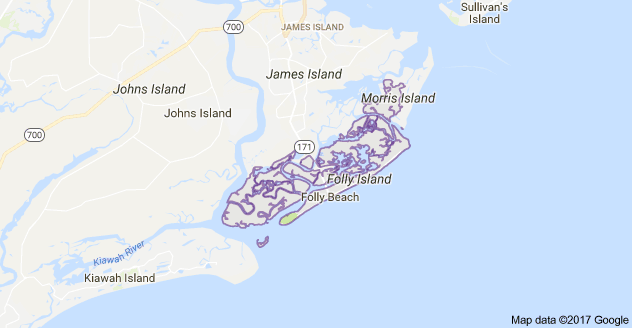 estaurants