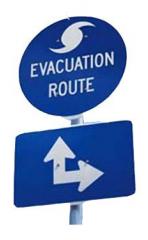 With Ernesto bearing down on Mexico and NOAA's updated Hurricane Season Outlook set to come out tomorrow, we thought we'd take a look at the topic of hurricanes. They're an important consideration for anyone thinking about purchasing real estate on the coast, especially on a barrier island like Folly Beach. This year, NOAA predicted a near-normal hurricane season, forecasting 9–15 named storms between June 1 and October 31, 2012, with 1–3 storms that have the potential to become major hurricanes. The 30-year period between 1981 and 2012 has seen an average of 12 named storms per year.
So far, the 2012 hurricane season is shaping up to be anything but normal. Tropical storm activity started in May with Alberto, which was 90 miles off the coast of Charleston by May 22. A week later, Tropical Storm Beryl followed Alberto. For those of you interested in real estate in the area, but unfamiliar with storm classifications, a storm becomes a named tropical storm once it begins producing winds of 39 miles and hour, and it can sustain maximum wind speeds of 45 miles per hour. Despite the heavy rains, wind gusts and high surfs, Charleston incurred no real damage in these storms, and the extra precipitation helped us get through what seemed like two straight months of 90-to-100-degree temperatures. And the storms made for some excellent surfing!
When it comes to ominous weather, the key for Lowcountry dwellers and coastal real estate owners is preparation. You always, always want to keep an eye on the weather — and luckily, our local news outlets are very good at reporting on any and every storm threat that crops up in the Atlantic. Also, local governments are very thorough about posting hurricane preparedness literature, and Charleston County has a 2012 Hurricane Guide that lists exactly what residents and real estate owners will need in their emergency kits, including food and water for people and pets, household items, clothing and bedding, tools and medical supplies. Plenty of resources are listed for folks who need help with transportation, and evacuation busses are part of Charleston's emergency plan. Evacuation routes in Charleston and the surrounding area are clearly marked with blue signs, and the exact roadways are outlined in the Charleston County Hurricane Guide.
While hurricanes are a real threat here — and pretty much every coastal region — they should not deter your plans to take advantage of the excellent real estate prices that can be found in the Folly Beach area. Despite the storms, we have always persevered here in the Lowcountry. Even 18th century estates, like Boone Hall Plantation in Mount Pleasant, have weathered the storms throughout the years. Sure, roofs and shutters have been replaced, but as long as you're prepared for a storm, you can dramatically reduce your risks and reap all the elements of the good life that a place like Folly Beach offers. Considering the entire Atlantic region is only likely to see three major hurricanes over the six-month season, the positives of beach living may just outweigh the potential hazards.
As always, please feel free to contact Bob Brennaman and 845-345-6074 if you have Folly Beach Real Estate questions, including those about hurricanes and how to prepare.